HOW'S YOUR STRESS-OMETER?

Do you know what your stress indicators are? Some people begin to have pain or tension in their neck. Others start to feel overwhelmed or to show actual signs of depression. Still others have what they describe as butterflies in their stomach or they feel tired more than usual.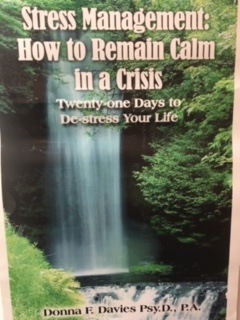 The next time you face a stressful situation, take a few minutes to become aware of what is going on in your body. Are you having more headaches than usual? Are you feeling more anxious or more tense than usual. Become aware of your thoughts as they play a major role in your interpretation of stress and the situations that contribute to it. If your thoughts are negative, they are likely contributing to your perception of the situation and will affect what you do to manage it. Try to find something positive about the situation or look for what you can learn from it. These are ways to change your perception of it.

For more information on stress management, contact our office at (954) 443-2182. You can also go to Amazon.com to get your copy of the book "Stress Management: How To Remain Calm in a Crisis."

Here's to managing your stress!

THINK ABOUT IT!

JULY 2023